Joined

Nov 12, 2016
Messages

5,584
Gender

Male
Direct Primary Care: An Innovative Alternative to Conventional Health Insurance
August 6, 2014, Daniel McCorry
Download Report
W‌ith new concerns over the effects of the Affordable Care Act (ACA)
[1]
on access to care and continued frustration with third-party reimbursement, innovative care models such as direct primary care may help to provide a satisfying alternative for doctors and patients. Doctors paid directly rather than through the patients' insurance premiums typically provide patients with same-day visits for as long as an hour and offer managed, coordinated, personalized care. Direct primary care—also known as "retainer medicine" or "concierge medicine"
[2]
—has grown rapidly in recent years. There are roughly 4,400 direct primary care physicians nationwide,
[3]
up from 756 in 2010 and a mere 146 in 2005.
[4]
Direct primary care could resolve many of the underlying problems facing doctors and patients in government and private-sector third-party payment arrangements. It has the potential to provide better health care for patients, create a positive work environment for physicians, and reduce the growing economic burdens on doctors and patients that are caused by the prevailing trends in health policy. With some specific policy changes at the state and federal levels, this innovative approach to primary care services could restore and revolutionize the doctor–patient relationship while improving the quality of care for patients.
In general, direct primary care practices offer greater access and more personalized care to patients in exchange for direct payments from the patient on a monthly or yearly contract. Physicians can evaluate the needs and wants of their unique patient populations and practice medicine accordingly. Patients relying on a direct primary care practice can generally expect "all primary care services covered, including care management and care coordination … seven-day-a-week, around the clock access to doctors, same-day appointments, office visits of at least 30 minutes, basic tests at no additional charge, and phone and email access to the physician."
[5]
Some practices may offer more services, such as free EKGs and/or medications at wholesale cost.
This approach would enable doctors and patients to avoid the bureaucratic complexity, wasteful paperwork and costly claims processing, and growing frustrations with third-party payer systems. It can also cultivate better doctor–patient relationships and reduce the economic burden of health care on patients, doctors, and taxpayers by reducing unnecessary and costly hospital visits.
While the rapid growth in direct primary care is a relatively recent trend, policymakers could help by eliminating barriers to such innovative practices and creating a level playing field for competition. At the state level, policymakers should review and clarify existing laws and regulations, repealing those that impede these arrangements. At the federal level, policymakers should consider facilitating greater access for patients to direct primary care through the federal tax code and also within existing federal entitlement programs.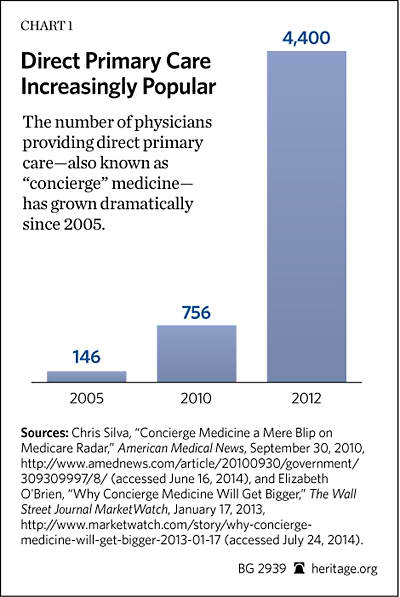 Rest of the article is at the link:
http://www.heritage.org/health-care...ive-alternative-conventional-health-insurance