Yes. The Scandals book is all about that. The "any cause" divorce was just one chapter of about 30 as I recall.
chessman,
In 1975 in Australia, the Labor government led by Prime Minister Gough Whitlam introduced no-fault divorce. See:
Gough Whitlam's no-fault divorce policy a milestone - The Australian
What has been the result?
Divorce in Australia source data
Source data for
Family Facts & Figures: Divorce in Australia
Divorce rates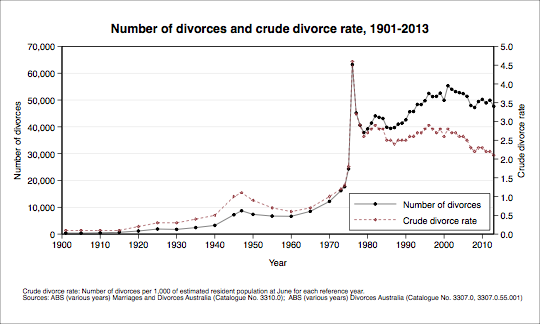 In 1970 there were 12,198 divorces, i.e. 1.0 divorce rate
After the 1975 no-fault legislation, divorces sky-rocketed in 1976 to a rate of 4.6 with 63,230 divorces. In 2013 that rate was 2.1, representing 47,638 divorces.
(
Note: Crude divorce rate
: Number of divorces per 1,000 of estimated resident population at June for each reference year.
Sources: ABS (various years)
Marriages and Divorces Australia
(Catalogue No. 3310.0); ABS (various years)
Divorces Australia
(Catalogue No. 3307.0, 3307.0.55.001).
Another concern here is:
AIFS' [Australian Institute of Family Studies] Director, Professor Alan Hayes said that the proportion of divorces ending after twenty years had increased from 13% in 1990 to 28% in 2011 (
Rate of divorce after 20 years of marriage doubles
,
Sunshine Coast Daily
, 7th May 2013).​
Oz