Joined

Jan 11, 2020
Messages

754
Gender

Female
Young people are in such a hurry these days. I am related to Nathaniel Hawthorne and I got a chance to read his love letters to his fiancée Sophia Peabody. They courted for ten years until he could afford to take care of her. Wow.
Sometimes young people today need some advice about courtship because the media has it all happen in about two hours. So here are some pointers.
1. Develop a fulfilling relationship with yourself before you attempt to have a romantic relationship. Romantic feelings can be like a tidal wave sweeping you out to sea if you are not securely tied to a relationship with yourself. Many of you may want to be swept out to sea, but this is not really healthy, and sometimes it is a slippery slope.
2. Selection is everything.
- Take your time.
- Do everything you can to keep from being blinded by your emotions.
- Know what you don't want (people who trigger your dysfunctional behavior).
- Look for someone healthy, and observe them objectively before you jump in.
- Look for someone who does not have to change very much too please you.
- Know what you do want. Make a list of the things that are mandatory and the things that are optional. Prioritize your list. Make sure you include things like availability, compatibility, honesty.
3. Dating:
- This is where you find out what this person is really like. Any false fronts should crumble after a few dates.
- Be yourself. You want someone to know who you really are.
- Measure your compatibility during this time.
- Establish trust.
- Hold off on sex if it blinds you to what this person is really like, and keep a lid on any budding romantic feelings. (You may feel them, but don't give them a lot of power by fantasizing too much.)
- Be willing to change your mind if you usually "cling" to unhealthy people and be willing to hang in there if you usually "run."
4. Friendship:
- See if you can relax and have fun together.
- See if you can count on this person.
- Continue to see if there is enough compatibility to sustain this relationship.
- Build a strong foundation for a future together.
5. Courtship:
- This is friendship with "an understanding" that things are going to become romantic.
- Romantic feelings can now have a free reign. See if they mix well with the friendship.
- You can let romantic love blossom now. You don't have to put a lid on your feelings anymore.
- Now you can test your readiness for intimacy. This is usually the time when a fear of intimacy comes up—if you have any.
6. Commitment:
- Now things are getting serious.
- Set ground rules for the relationship.
- Discuss things like fidelity, growing closer, the future, how much time you will have for each other. . .anything that is important to you.
7. Switch:
At any point in the progression of the relationship, one partner may experience a fear of intimacy and pull back. Don't panic. Give your partner some space. However, if he or she does not come around in a few weeks, you should move on.
8. Marriage:
- Maintain what you have established up to now.
- Honor the values you have in common.
- Grow as a couple, as well as individuals.
- Get to really know each other and experience intimacy.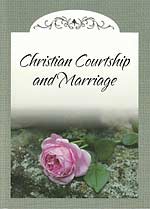 Last edited: